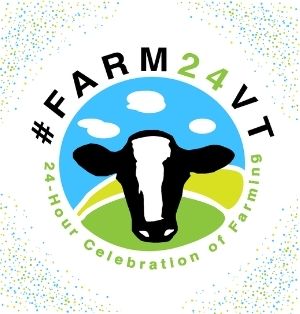 The Champlain Valley Farmer Coalition and the Connecticut River Watershed Farmers Alliance invite you to #Farm24VT, a 24-hour social media celebration of agriculture, food, and dairy in Vermont! Farmers, agribusinesses, and others in the agriculture sector will share photos, videos, and stories, offering a behind-the-scenes look at how local foods get to tables throughout the region.
Our event kicks off on May 12, 2021 at 5:00 a.m. and lasts for a full 24 hours.
If you work in Vermont agriculture or love to eat Vermont foods, visit #Farm24VT on the web and take the pledge to participate today!
#Farm24VT is funded in part by a grant from Vermont Breakfast on the Farm.