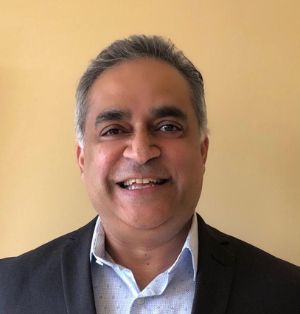 Vijay Nazareth, Executive Director
Vijay Nazareth joined the Champlain Valley Farmer Coalition as the organization's second Executive Director in July 2022.
Vijay's experience in the private sector and in nonprofit management and finance, combined with his passion for conservation in agriculture and environmental stewardship, will help to further advance our mission. He is a curious, collaborative, and results-oriented leader who brings strong strategic thinking and problem-solving skills to the role.
Vijay holds a Master of Science in Agriculture/Soil and Water Science from the University of Florida, as well as a Bachelor of Science in Mathematics from the University of Connecticut. His academic research interests include the use of precision agriculture for sustainable intensification and soil and water management. He collaborated with the USDA Water Management Lab in Maricopa, AZ on improving water use efficiency for cotton in semi-arid climates. The research paper he co-authored with the USDA was recognized by The American Society of Agricultural and Biological Engineers (ASABE).
He served as the Founder and Executive Director of Skills for Life, a nonprofit organization based in Frederick, Maryland dedicated to empowering youth through social entrepreneurship, gender equality, and career advancement. He was also the CEO of Exeter Capital Companies, specializing in institutional asset management, global market analysis, and portfolio structuring and management. He formerly served as a Food Security & Nutrition Consultant for the International Food Policy Research Institute in Washington, DC, where he worked on projects in the areas of crop and climate water management, value chain enhancement, and climate risk mitigation.
Kate Longfield, Water Quality Program Manager
Kate Longfield joined the Champlain Valley Farmer Coalition in September 2022 with a background in environmental policy, agricultural conservation practices, and government conservation programs. She received her bachelor's of science in Environmental Studies (2019) and her master's of science in Natural Resources (2023) from the University of Vermont's Rubenstein School of Environment and Natural Resources. Her master's research investigated Vermont farmers' experiences with government conservation programs and the federal and state agencies that oversee them (NRCS, FSA, VAAFM). Kate has served Vermont through the ECO AmeriCorps program, both as Assistant Water Quality Program Coordinator for the Northwest Regional Planning Commission, and Assistant Planner for the Vermont Land Trust. She has worked closely with dairy, livestock, and crop farmers, and has lived and worked on livestock farms in New England and abroad in Australia. Kate is thrilled to provide water quality education, support, and technical assistance to the diversity of farms across Vermont's Champlain Valley.
Brooke Small, Workforce Development Program Manager
Brooke Small comes to the Farmer Coalition with an eye for soil-based nutrition. She completed her Bachelor's of Science in Dietetics and Food Science from the University of Vermont, but didn't see this as the avenue for change until she connected human health with soil health through her work on New England farms.
Brooke has worked in every sector of the food system from seed to slaughter to USDA policy.
She is excited about connecting students and community members to the impactful work that is happening on Vermont farms and looks forward to promoting the limitless opportunities that agriculture provides.