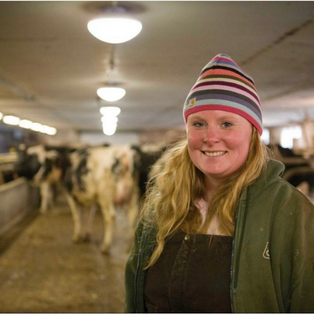 If you were to look at Farr Farms' social media posts, you might assume they're all fun and games.
You'd see ducks getting pedicures in the farmhouse sink, pigs playing hide-and-seek, Jersey cows mugging for the camera, and all kinds of big, beautiful sunflowers stretching toward the sky.
And while it is true the Farrs have a robust sense of humor about their profession and family life on the farm, it's serious business behind-the-scenes.
Especially when it comes to taking care of the environment.
When we visited co-owners Ashley and Erin Farr in early November 2022, they were wrapping up their soybean harvest, planting their cover crops to prevent erosion and nutrient run-off over the winter, washing and putting away equipment for the season, and planning for next year's cropping.
They raise beef cows, pigs, and ducks, selling their meat and eggs at an on-site farmstand. The barn also boasts a small but mighty contingent of Ayrshires for showing in 4H. Until recently, the Farrs milked a herd of 60 cows, a nod to the farm's original purpose at its 1951 founding by Ashley's grandparents.
On the agritourism side of the operation, the Farrs welcome visitors each summer to their sunflower patch to take a meandering stroll through the gigantic blooms. As fall creeps in, the sunflowers give way to pick-your-own pumpkins in all shapes, colors, and sizes.
And then there are the crops. Known as Johnny Brooke Farm and owned by Ashley's father Chuck, they grow corn, soy beans, winter rye, triticale, and hay, which they sell to other farmers in the area.
Whether the Farrs are growing sunflowers, decorative gourds, or livestock feed, they give considerable attention to how they plant and nourish their crops in the spirit of preserving soil health.
Each fall they use a no-till drill to plant a cover crop mix of two varieties of clover, winter peas, tillage radish, and triticale on all of their acreage, including the corn land. These cover crops help the Farrs to build more organic matter and capture nutrients in the soil.
Admittedly, the multi-species mix is a bit tricky to plant because each variety of seed is a different size. The seed distribution requires frequent monitoring to ensure all the little seeds do not come out first and leave the larger seeds behind.
The Farrs use their no-till corn planter for the sunflower patch, a mix of Black Oil and Autumn Beauty. Most recently, they have experimented with no-till planting their pumpkins into winter rye, though with mixed results. They're eager to keep trying and work out the kinks.
The agritourism crops also present an opportunity for Erin to educate the general public about agriculture. This year, for example, visitors immediately noticed that the sunflowers and pumpkins were not in the same spot they were last year. This prompted interesting discussions about why it's important for farmers to engage in crop rotation: improved soil health, optimized nutrients, and pest and weed control.
Ashley and Erin have big aspirations for the future of their farm and the environment.
For one, they would like to try rotational grazing with their beef herd to capitalize on some of the hilly land they cannot crop. Rotational grazing is the practice of containing and moving animals through a pasture to improve soil, plant, and animal health. This practice increases soil fertility, reduces soil compaction, prevents erosion and nutrient runoff, and allows plants to build stronger root structures. From an economic perspective, rotational grazing allows farmers to reduce costs associated with machinery, fuel, and supplemental feeding. 
The Farrs would also like to try roller crimping to terminate their cover crops in the spring instead of using herbicides. Though they have heard mixed reviews about this practice from other farmers, they're planning to conduct a small trial next year. If their experiments prove successful, it is a practice they could then use on their soybeans, sunflowers, and pumpkins.
Of course, trying new agriculture practices and dreaming about the future is easier said than done.
"The biggest hurdle we have is mental," says Erin. "Of wrapping our heads around something newer."
Ashley concurs.
"This year we no-tilled cover crops into picking corn stubble and it worked out fine," he said. "Still, there's always that fear: you think you're set up, you think you're ready, you've done your research. But you're skeptical: 'Is it going to work on my farm?'"
On the other side of the equation, the Farrs are very grateful for the soil they have (much like their fellow Richmond farmer, Dave Conant).
"We have extremely forgiving ground," notes Ashley. "That has enabled us to do some of the things we've done. Our soil quality allows us to take risks."
For Ashley and Erin, the hesitation, skepticism, researching, nail-biting, and risk-taking is all worth it to be good stewards of the environment.
"It's our asset. There's no sense in wasting it," says Ashley. "Why not improve it?"
Erin adds, "I also think it's important to demonstrate to the next generation that we're trying something new, trying to stay-up-to-date with current practices, and encouraging progressive thinking."
"There's the opportunity to save on input costs by having better soil quality. It's not something that's going to happen overnight," Ashley notes. "Last year, we cut back on our inputs by 20%, not from a cost standpoint, but from nutrients put out. We still had good yields this year thanks to improved soil health."
The Farrs have solid advice for other farmers who are trying to figure out how best to support water quality, soil health, and climate-smart farming.
"Don't be afraid to ask questions. Most farms are willing to share what they know," says Ashley. "You can take it home and adjust it how you see fit for your particular operation and ground."
"No two farms are alike."