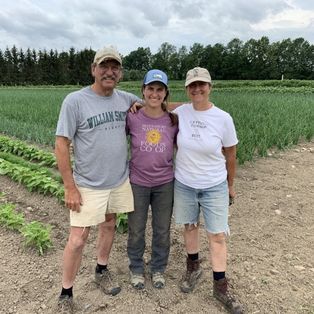 Golden Russet Farm, located in Shoreham, Vermont, has been a member of the Champlain Valley Farmer Coalition since 2015
Vermont's farmers are accustomed to the seasonal ebbs and flows that characterize agriculture in our state. We experience periods of abundance, hibernation, and rebirth.
Nowhere was this perpetual cycle of life and energy more evident than at Golden Russet Farm–an 84-acre certified organic vegetable farm located in Shoreham–when we recently visited via Zoom.
At the time, the rock-solid ground was blanketed in two feet of snow, but preparations were well underway for spring. In a matter of weeks, the greenhouses of Golden Russet will come alive, as the Stevens Family and their small team of devoted employees will begin planting seeds.
Many of these seeds will soon burst forth as the vegetable starts, herbs, flowers, and hanging baskets they will sell in April through July, alongside fertilizer, potting soil, ceramics, and seed potatoes. Others are destined for the nearly 10 acres of land devoted to growing cut flowers and fall vegetables: onions, beets, carrots, broccoli, cabbage, and squash, much of which Golden Russet sells wholesale to the Middlebury Co-op, City Market, or Healthy Living.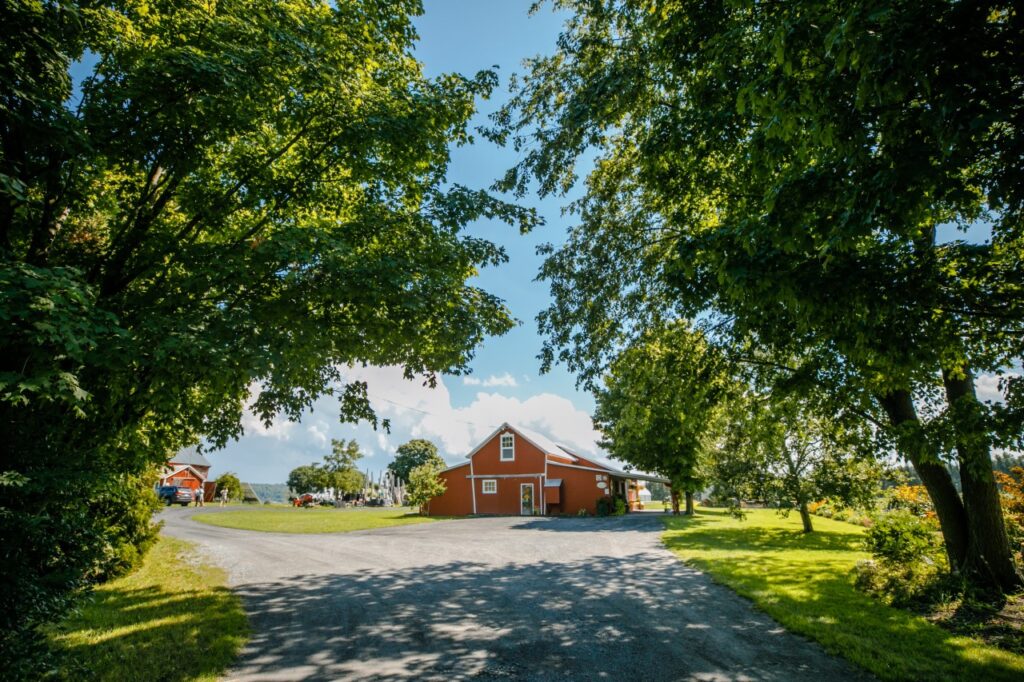 The Stevens Family–comprised of Will, Judy, and their children Anna, Freeman, and Pauline–have been stewards of this land for nearly 40 years. Will and Judy had been farming for three years over in Monkton before purchasing Golden Russet, a former dairy farm, in 1984. In the early days, they operated Golden Russet as a market garden, selling mostly to farmers markets before transitioning into wholesale. In 1987, they earned their organic certification.
As farm children often do, Anna, Freeman, and Pauline grew up and built lives of their own off the farm. While Anna and Freeman live out west, Pauline returned to Golden Russet in 2018. In fact, it is Pauline herself who is giving us this virtual tour. At the time of our visit, she is knee deep in the paperwork of taking the farm over from her parents. Will and Judy are easing toward retirement, with Will finding an exciting new undertaking off the farm and Judy helping out on a smaller and smaller scale.
The significance of these life transitions are top of mind for Pauline.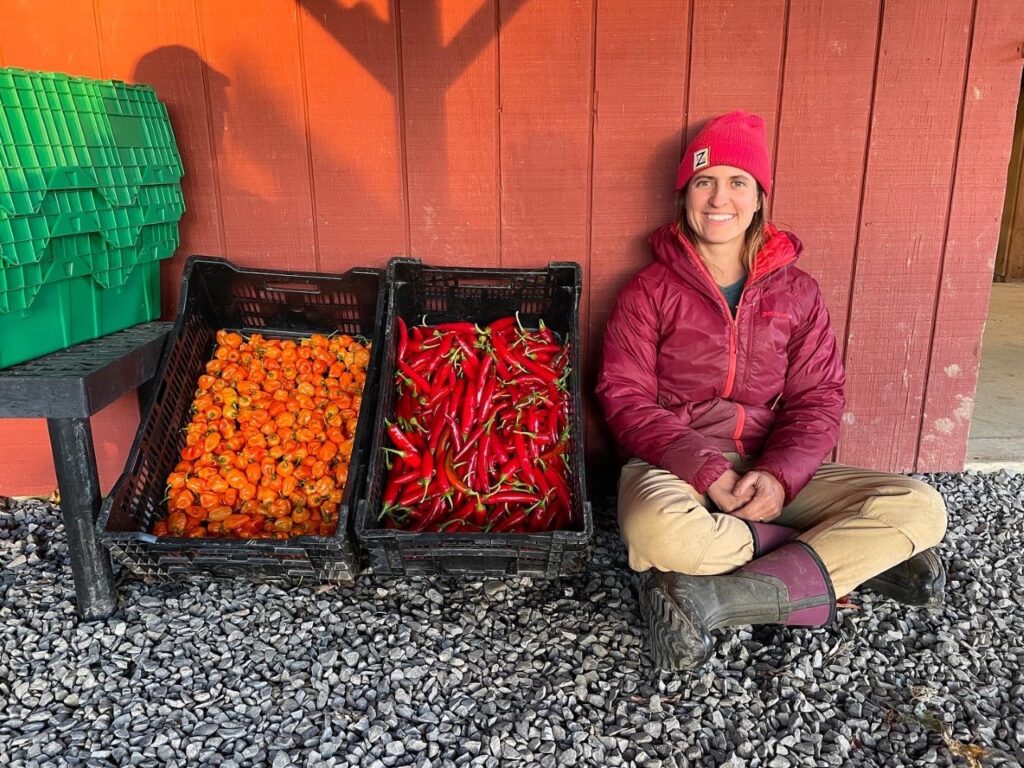 "I feel super lucky that I'm able to take over this business basically because my parents were good stewards of the land. I can continue because the land still has something to offer," she says.
"They treated it well and maintained it in a way that it can continue to be productive. I am very appreciative of that, and realize that's a huge responsibility. I want to make sure that when I'm done farming, there's still something here that can be enjoyed and used."
But before Pauline can begin dreaming of her own retirement decades from now, there is still yet work to be done. Right now, she is busily inventorying seeds as they arrive, interviewing potential employees and checking their references, and continuing to sell some vegetables to the Middlebury Co-op. When time allows, you can find Pauline and her husband traversing the fields on their cross-country skis.
It may seem like a given that a certified organic farm like Golden Russet would be committed to protecting water quality and soil health. Indeed, their philosophy is that healthy soil creates healthy food which creates healthy people. And while it is true that they follow numerous regulations in order to maintain their certification, there are still many opportunities for experimentation and innovation, especially where fertilizer and water are concerned.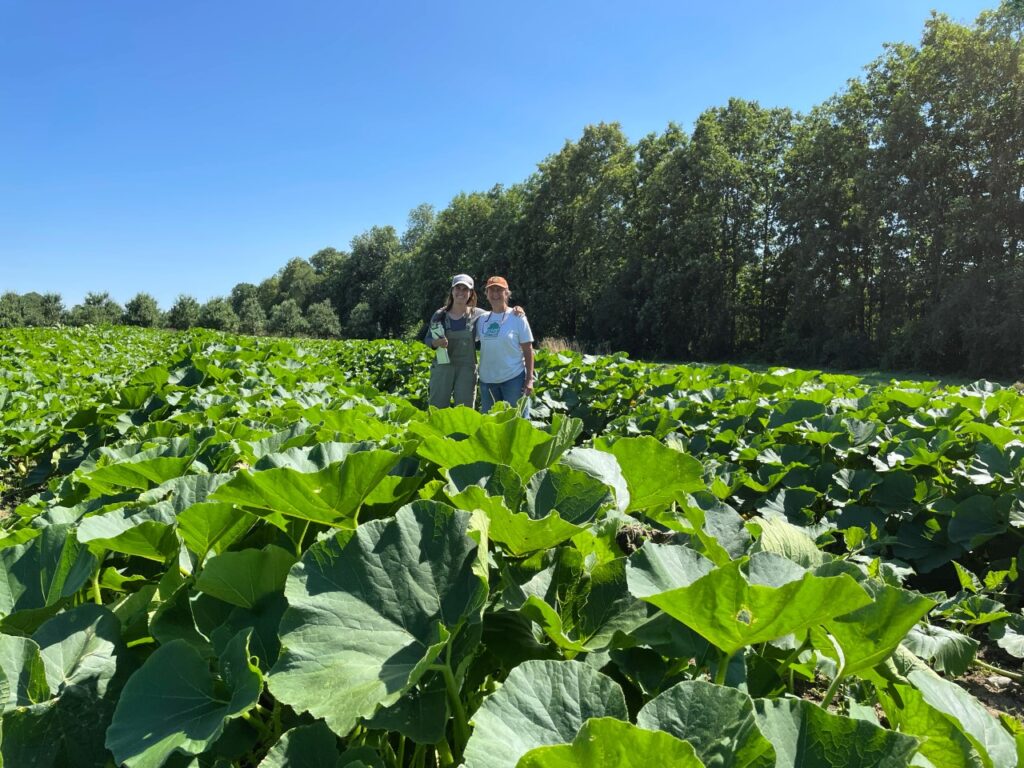 The soil at Golden Russet has high levels of phosphorus, a nutrient that causes increased growth of algae, algae blooms, and other large aquatic plants, which can result in decreased levels of oxygen in bodies of water, like Lake Champlain. To offset these high levels of phosphorus, the farm stopped spreading manure on an annual basis several years ago.
For irrigation, Golden Russet has two methods for delivering water to thirsty vegetables. They have an overhead irrigation system comprised of aluminum pipes that can be set up to run the length of the field. They turn the system on for about an hour at a time so they do not oversaturate the ground, which can lead to nutrient run-off.
They also use a drip system, which is a plastic tube with holes every foot on the ground. The water slowly drips straight onto the roots. Because the delivery is more direct, this cuts down on water waste, soil erosion, and nutrient leeching.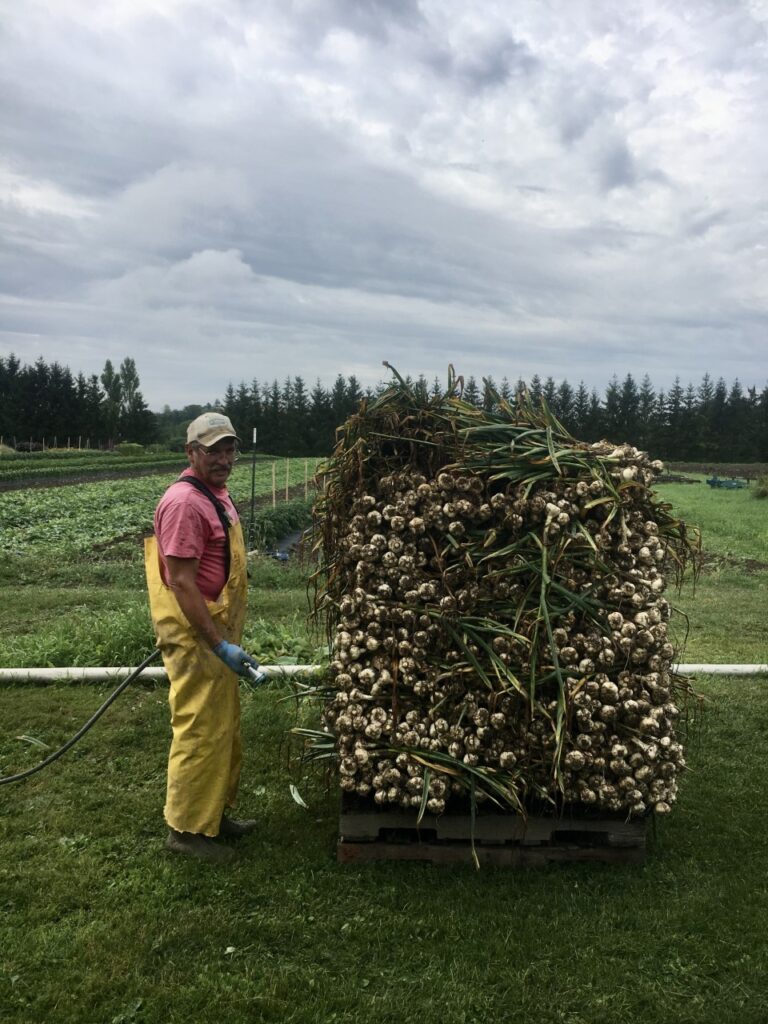 The need for efficient irrigation is of particular importance to the farm because of their raised bed system. Following Hurricane Irene in 2011, when some of their fields were completely submerged in stormwater, Golden Russet started growing their crops 6-8″ above the tire tracks. On the one hand, the vegetables do not drown during wet years, but on the other hand, extra water is necessary when rain is elusive.
If you were to look around at Golden Russet, you would also see a lot of vegetated buffer zones. These serve as wind breaks to protect crops and soil, absorb excess water and run-off, and encourage biodiversity by acting as a home and source of food for birds, bees, and other animals.
(In fact, biodiversity is so important to Golden Russet that Pauline has recently joined the Pollinator Pathway of Addison County, a group working to encourage everyone in the area to grow at least one native pollinator-friendly plant in their yard to keep bees circulating throughout the region.)
Golden Russet also engages in a lot of cover cropping, keeping the farm looking green throughout the year, even in winter. Cover crops serve many environmental functions, but their primary job is to prevent nutrient run-off and soil erosion during wet winters and soggy springs.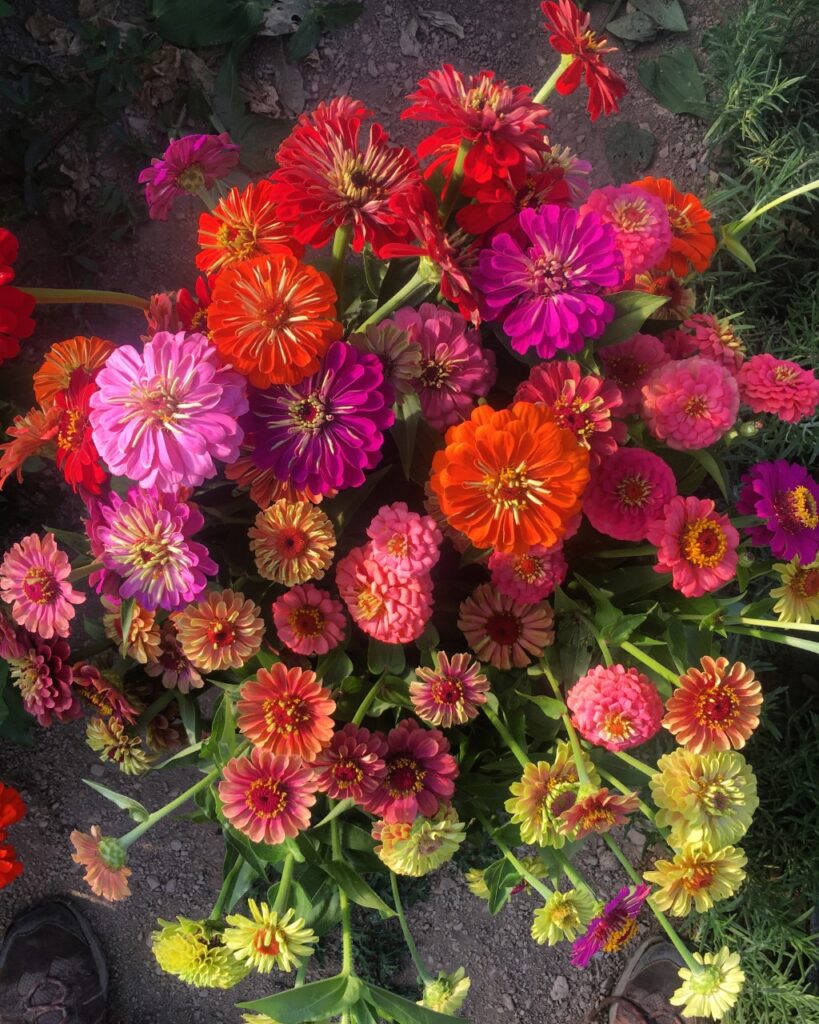 Finally, over the last few years, Golden Russet has started using fabric weed mats between rows of black plastic mulch to suppress unwanted plant growth. Fewer weeds means less need to drive over their fields with the cultivator. Less use of the cultivator means a reduction in soil compaction, which can adversely affect the soil's ability to absorb water.
As Pauline looks to the future, there are a couple of practices she would like to experiment with or improve. Tarping, for example, is becoming more prevalent among vegetable farmers. They lay silage tarps over the ground, which heat up the soil and kill young weeds to create a stale seed bed to then plant crops into. She would also like to explore a better system for creating their raised beds. The heavy clay soils Addison County is practically famous for make this a challenging process, and finding the right combination of implements is necessary.
Pauline points to the collaborative and supportive culture of the farming community for Golden Russet's success in implementing environmentally friendly agricultural practices. If you have read any of our other farmer member spotlights, you will know this a familiar refrain. The insight and advice they have received from other farmers have given them to confidence to go "all in" on trying new things.  
That speaks to Golden Russet's desire to join the Champlain Valley Farmer Coalition nearly 10 years ago. They wanted to be a part of a local group in the industry and stay in the loop on water quality issues.
"It's so easy in farming to feel like you're out in your own silo," says Pauline. "But we are in it together. Everything we do affects everything else downstream or down wind. We might grow or produce different things, but we all rely on the same soil and clean water."
And because of their bedding plant business, Golden Russet's perspective and expertise extends to home gardeners.
"A lot of people come to us and look to us as a good resource," Pauline has observed. "If we can showcase good practices, that will ripple out into the community."
If another farmer were to ask Pauline for her advice on how to be a good steward of the land and water, she would offer three top tips:
Develop a multi-year nutrient management plan so you can make smart decisions about what you're putting on your fields.
Incorporate cover cropping into your annual plans.
And create a multi-year planting schedule that allows for crop rotation.
It all comes down to preserving the special qualities that make Addison County, well, Addison County.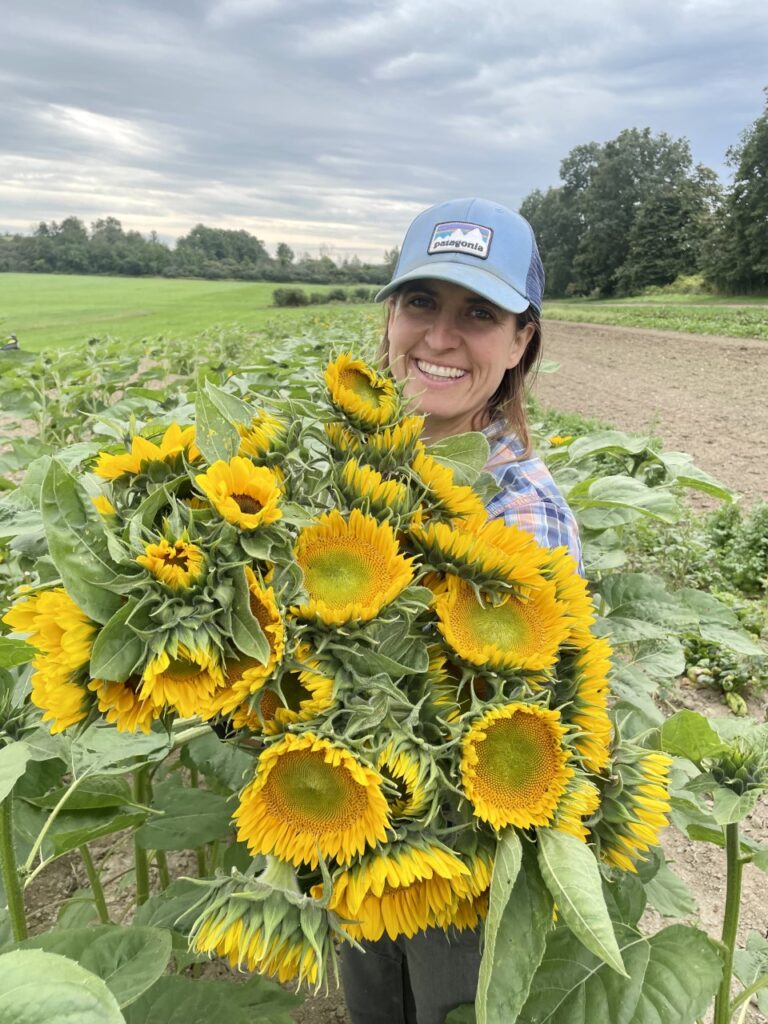 "The agricultural land makes up so much of that beauty," says Pauline. "If you're driving down 22A, you see all the rolling fields. It's such a unique place and I think it's so important that we treat it well so that we, as residents, can enjoy and appreciate it, as well as people who are just passing through."
To learn more about Golden Russet Farm, visit them on the web, or follow along on Facebook or Instagram @goldenrussetfarm. 
Photos by Pauline Stevens, Cody Mears and Sabin Gratz