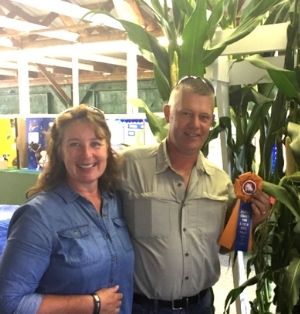 Deer Valley Farms and the Brands family have quite a streak going. For four years in a row, they have won Best of Class in the Corn Plants category at the Crops Contest at Addison County Field Days. In 2017, they also won Best in Show for the entire exhibit with numerous blue ribbon winning entries and multiple Best of Class awards.
If you ask Ray Brands, he'll say that award-winning crops start with the soil. "You've got to take care of it," according to Ray. For him that means managing water with bedded fields and tile drainage, good nutrient management, fertility, and organic matter.
He was quick to point out that this year's top three entries in the corn category were all cover cropped the fall before. As he's learned by attending the annual UVM Extension No‐Till & Cover Crop Symposiums, you need water management, warm soil, and organic matter. A high yielding corn crop uses a lot of organic matter, which is why he thinks cover crops are important. In his modest way, he'll also tell you that he's no better of a farmer than the many other farmers in Addison County, but he will admit that details count when it comes to winning that rosette.
Deer Valley Farm started in Waltham, Vermont in 1968 when Ray's parents, Casey and Clara, moved there from southern New York. In 1976, the dairy farm was victim to a barn fire. The following year the farm moved to its current hometown of Ferrisburgh. With 60 cows at that location, the farm gradually grew through the 80's and 90's, expanding as Ray and his brother Pete came back to the farm and added the Atkins Farm location to aid in that expansion.
Ray and his wife, Donna, are now the primary owners along with Casey & Clara. The farm is currently home to 600 Holstein cows and 1200 acres of cropland. Ray and Donna are joined by their son, Ryan, who is the farm's Herdsman and his wife, Brittany. Their daughter Rachel and her husband Zachary Sullivan raise all natural pork locally alongside their landscape business. Their daughter Jamie is a respiratory therapist and her husband Steve Roorda works at Middlebury College.
If you ask Ray about his approach to seeing future generations be successful farming, he'll tell you that giving them responsibility is the key. Just as his father did with him, letting the younger generation make mistakes is often the way to let them learn with their wallets the importance of every decision. "If you say no all the time, you'll just curb their enthusiasm."
A founding CVFC member and Director, Ray believes an organization like ours is important because the public is losing touch with agriculture and he feels that dairymen can and do demonstrate a stewardship of the land that their neighbors need to know more about. He also values the role the organization plays in advocating at the statehouse with a positive, unified farming voice and the importance of providing education to Vermonters about what farmers are doing to protect water quality. Reflecting on a recent interaction, he shared that once neighbors know what we are doing and why, they have a whole different way of looking at it. While those conversations can be hard, they can also be very valuable.