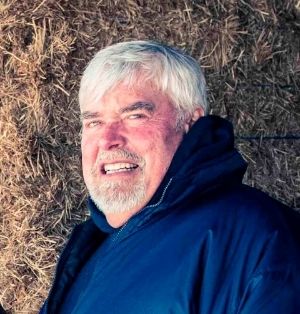 Loren Wood is the owner of Woodnotch Farms in Shoreham, VT and a member of the Board of Directors for the CVFC. Loren originally grew up in Candia, NH on a small diversified farm, and after attending college at VTC, his family moved to their current farm in Shoreham milking 40 cows. Over the years the farm has grown to more than 1300 acres with 500 more rented, and they now milk 350 cows with plans to expand.
This farm is still very much a family operation. Loren's four sons are integral to the day to day operations of the farm, and he receives much support from his wife. Loren also helps his sons in their custom harvesting operation, where they harvested feed on more than 17,000 acres last year.
The past several years Woodnotch Farms has implemented a number of water quality and farm improvement projects. They cover crop about 100 acres of corn ground, and this year tried growing corn no-till and had great success! They have also done work to put in a silage leachate collection system, and are addressing some issues with heifers being outside during the winter. This year the farm was nominated to be Vermont Dairy Farm of the Year. There are so many farms that are doing good work and deserve this recognition, and the Woods were honored to be acknowledged for their efforts.
Loren originally joined the Coalition because he wanted to do his part to make Lake Champlain cleaner for his grandchildren. When attending the first meeting when the Farmer Coalition formed, his first thought was about how much knowledge and experience about farming was in that room. The ability to learn about what fellow farmers are doing for water quality and farm viability and then figuring out how to make that work on his farm has been of huge value to Loren. He feels that the fact that we can all sit at a table or have a barbecue and talk about what is and is not going well on our farms is special to this organization, and we will all be better farmers for it.