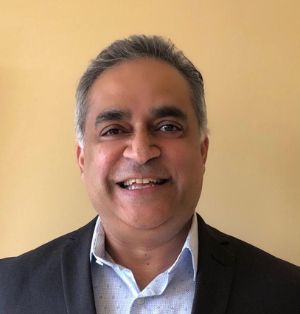 We're very pleased to announce that the Champlain Valley Farmer Coalition Board of Directors has named Vijay Nazareth as our new Executive Director. His appointment comes following a robust search process which netted more than 20 applications from individuals from Vermont and around the country.  
Vijay's experience in the private sector and in nonprofit management and finance, combined with his passion for conservation in agriculture and environmental stewardship, will help to further advance our mission. He is a curious, collaborative, and results-oriented leader who will bring strong strategic thinking and problem-solving skills to the role. Vijay is thrilled to be joining our organization, and looks forward to meeting and working with our coalition members and community partners.
When Vijay becomes Executive Director on July 11, he will have overall operational responsibility for CVFC's mission, programs, member relations, communications, financial growth, grant management, and staff. Among his many priorities is resuming our in-person educational programming for farmers to learn more about innovative agricultural practices that enhance water quality, soil health, climate smart farming, and their economic resiliency.
Vijay holds a Master of Science in Agriculture/Soil and Water Science from the University of Florida, as well as a Bachelor of Science in Mathematics from the University of Connecticut. His academic research interests include the use of precision agriculture for sustainable intensification and soil and water management. He collaborated with the USDA Water Management Lab in Maricopa, AZ on improving water use efficiency for cotton in semi-arid climates. The research paper he co-authored with the USDA was recognized by The American Society of Agricultural and Biological Engineers (ASABE).
He currently serves as the Founder and Executive Director of Skills for Life, a nonprofit organization based in Frederick, Maryland dedicated to empowering youth through social entrepreneurship, gender equality, and career advancement. He is also the CEO of Exeter Capital Companies, specializing in institutional asset management, global market analysis, and portfolio structuring and management. He formerly served as a Food Security & Nutrition Consultant for the International Food Policy Research Institute in Washington, DC, where he worked on projects in the areas of crop and climate water management, value chain enhancement, and climate risk mitigation.
We hope you will join us in warmly welcoming Vijay to Vermont and the Champlain Valley Farmer Coalition. Please stay tuned for updates and opportunities to connect with him.
In the meanwhile, our Interim Executive Director Sarah Audet will continue on until July 31 to onboard Vijay. Sarah has thoroughly enjoyed the opportunity to support the Farmer Coalition through this time of transition. She looks forward to resuming her role as Communications & Media Consultant in August.