The Lake Champlain Sustainable Agriculture Education Program is an exciting new opportunity for high school students in Addison County to engage in hands-on learning at local farms! It is hosted by the Champlain Valley Farmer Coalition.
Students in our internship program will:
Meet and interact with local farmers
Develop a broad understanding of farm operations
Learn about agricultural practices to support water quality in the Lake Champlain Basin
Share what they learn with younger students in their district
The Details
8-week program running October-November 2023 OR May-June 2024
2 hours per week on a flexible schedule
$400 total stipend
Up to 20 students will be accepted into the program
Open to high school students in Addison County
Info Sessions
Middlebury | 10th & 11th grade students are invited to join us on Friday, September 15, 11:15 am – 12:15pm during advisory. See your advisory for a pass to attend this session.
Vergennes | TBD
Participating Farmers
Ramsay Mellish, Cutting Hill Beef Company – Cornwall
Cutting Hill Beef Company's mission is to transform New England agriculture by revitalizing the land with grazing animals on open pastures, fostering healthier soils and sequestering carbon, to provide families in the Northeast with nutrient-rich, sustainable, and delicious food. Meet Ramsay
Dan Wulfkuhle, Wood's Market Garden – Brandon
Wood's Market Garden is a 165-acre farm, producing roughly 30 acres of certified organic vegetables, fruits, herbs, and flowers every year. The farm has been an iconic destination and mainstay of the local community for generations, dating back to the early 1900s when the Wood Family first started farming here. Meet Dan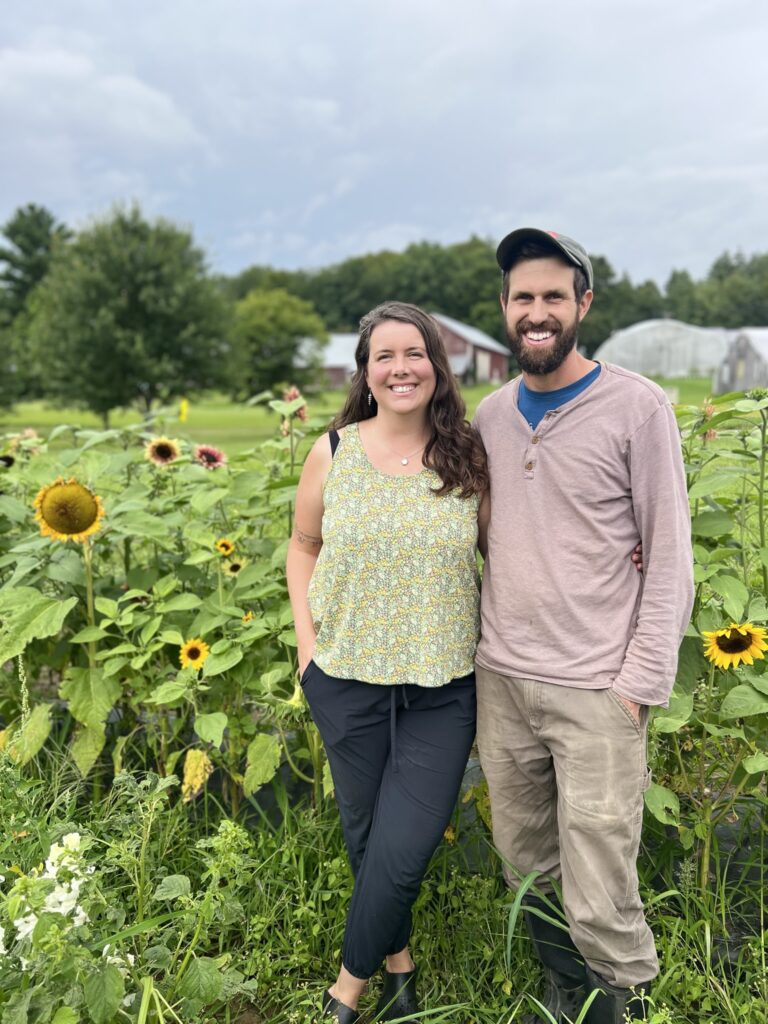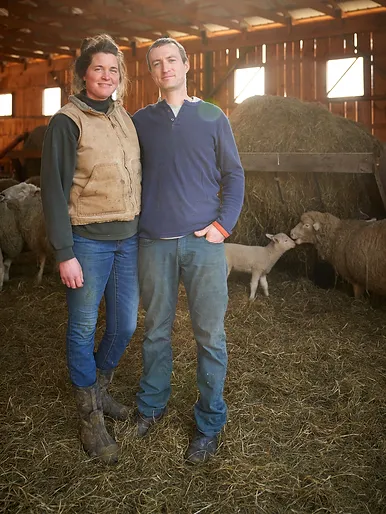 Ben & Hilary Haigh, Rolling Bale Farm – Shoreham
Rolling Bale is a certified organic farm that sits on 100 acres nestled between a quiet dirt road and the winding Lemon Fair. Ben & Hilary established Rolling Bale Farm in 2014 and have grown every year since. Meet Ben & Hilary
Erik Andrus, Boundbrook Farm – Vergennes
Since 2010, Boundbrook Farm has been working towards an adaptive model for heavy soils and a shifting climate, and have been planting rice using organic methods. They're now expanding cold-climate ecological rice farming to the commercial scale, in partnership with other growers and with counsel from practitioners in Japan. Meet Erik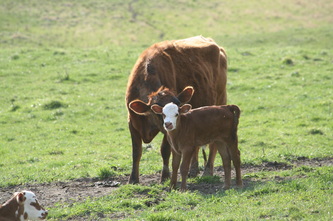 Brian & Cindy Kayhart, Chalker Farm – Vergennes
As a second generation family farm, the Kayharts chose to diversify their operation instead of growing it. They have developed a beef herd and have added pigs and chickens. Farming is not just their job, it is their way of life, and they put everything they have into creating the most enjoyable and reliable products to their customers. Meet Brian & Cindy
About the Champlain Valley Farmer Coalition
We assist all farmers in implementing innovative agricultural practices that enhance water quality, soil health, climate smart farming, and their economic resiliency in the Champlain Valley. We accomplish this through a positive, unified voice that provides targeted education and outreach to farmers and the public; advocates on behalf of farmers' environmental interests; and collaborates with community partners to achieve common goals. To learn more about our mission and story, click here.
Our Partners
We are proud to partner with the Vermont Agency of Agriculture, Middlebury College, Hannaford Career Center (HCC) and high schools in Addison County to offer this internship program.
Questions?
Contact Brooke Small, CVFC's Workforce Development Program Manager at brooke@cvfc-vt.com or 802-272-7817.
Frequently Asked Questions
What is the program?

This 8-week internship is part of the Lake Champlain Sustainable Agriculture Program and is overseen by Champlain Valley Farmer's Coalition in partnership with local High Schools and Middlebury College and funded by VT Agency of Agriculture.
What will I learn?

Learn about conservation practices, best practices for water quality, and other agronomy topics under the mentorship of one of our five farmers. Each of our partner farms runs a diversified operation and you will be matched to a farm based on proximity and interest.
Will I be paid?

Yes! After successful completion of the program students will receive a $400 stipend.
What else will I be required to do?

During the semester, interns will host a workshop or training each month, sharing what you have learned in your internship with students at your school.
What kind of environment will I be working in and who will I be working with?  

This semester, we expect two students to be assigned to each farm (see above for a list). No experience with farm work or conservation techniques is needed. Be ready to learn through doing and explore topics that interest you with your mentor.
How many hours per week is this commitment?  

The program is designed to be 2 hours per week for 8 weeks, but if you or your partner farm have different needs for more time and fewer visits. or vice-versa, this can be worked out with individual pairs. 16 hours total for the semester.
How will I get to my work site?   

You will need to provide your own transportation to and from the farm. This is why we take location into account when matching you with another student and a farm.